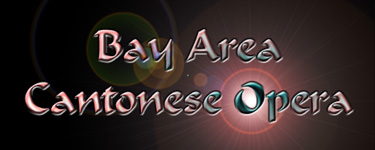 This website is dedicated to promoting and discussing Cantonese Opera, spotlighting events and cultural experiences in the Bay Area, California. Although the site is no longer regularly updated, we hope it's a valuable resource to anyone who's interested in learning more about Cantonese Opera in the Bay Area and around the world. Please feel free to email us if you have any questions!

View Our Guestbook
Sign Our Guestbook

---
[Home] [About Cantonese Opera] [News & Events] [ABC Corner] [NBC Corner] [CBS Corner]
[Editorials] [Spotlight on...] [About this site]

© 2002-2003 Bay Area Cantonese Opera. All rights reserved.