Tami's Homepage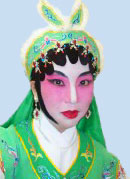 (July 2002) -- Tami is a freshman at Alameda High School. She likes to sleep, annoy, and scare her parents. :D Tami is also an anime (Japanese Animation) fan, and devotes much of her time to downloading songs and collecting anime items.
Tami started learning Chinese Opera at age 9. She then, took a three year break, like her sister Denise. When Tami returned to Chinese Opera, she played many supporting roles in shows like: Western Beauty, Chiu Chee Long, ). Tami most recently performed in Leland Yee's State Assemblyman Fundraiser (January 2002), and in the SF CCC's Mother's Day Spectacular (May 12, 2002).
"Chinese opera gives me an opportunity to meet more people. I, along with my 'sisters,' also get to drive Anson CRAZY…HAHAHAHAAHAH. I'm able to learn something unique and familiarize myself with Chinese traditional society."
PROFILE
Name: Tami Chan
Nickname: Tam Tam, Tamster, Taminator, Toyota, "Hey You!", North Star
Height: 5'4"
Weight: No Comment
Age: 15
Opera Facts
Favorite Skit -
Favorite Song -
Favorite Instrument - Butterfly Harp
Favorite Role - Hui Seen (White Snake's Husband)
Favorite Move - Spinning umbrella
Least Favorite Move - Girl's round table
Funniest or Stupidest Practice Blooper - Not being able to open my umbrella!
Most embarrassing stage moment -
Favorite Actor/Actress - Dragon Lee (When in doubt, say Dragon Lee!)
Role Model - My Mom, Kite Ma, and all my Aunties
Quote: "Hizerz!"
---
Be sure to catch Tami's next performance: Red Bean's 6th Annual Opera Show
July 27, 2002, 6:45 PM at Great Star Theatre in San Francisco

The show will consist of 6 skits, and three singing performances. For the first time in the Bay Area, the show will feature an all-American-Born-Chinese (ABC) performance: Lau Gum Ding. Tami is the supporting actress for this skit. For more information on Lau Gum Ding, visit Lau Gum Ding's website.

General admission tickets are $50, $30, $20 and $10. For advance ticket reservations, please contact Tami.
Sponsorship/Advertisement to the event program is available as follows:
Full Page - $300 (include 2 Honored Guest $100 Tickets or 4 Special Guest $50 Tickets)
Half Page - $150 (include 2 Special Guest $50 Tickets)
Quarter Page - $100 (include 2 Guest $30 tickets)
If you are interested in sponsoring Tami, please notify her by June 5th, 2002. Any donations to the Red Bean Cantonese Opera Club in support of this cultural event will be highly appreciated. Thank you in advance for your support.
---
[Home] [About Cantonese Opera] [News & Events] [ABC Corner] [NBC Corner] [CBS Corner]
[Editorials] [Spotlight on...] [About this site]

© 2002-2003 Bay Area Cantonese Opera. All rights reserved.