Becky's Homepage
(June 2002) -- Becky, a senior at American High School, will be graduating this June 2002. This coming Fall, she will begin pursuing a degree in Art at UC Irvine.

Boneless and 98% fat free J Becky finds it easy to learn new movements because of her flexibility. Innately artistic, Becky was voted Most Artistic out of her class this year. She got into Chinese Opera (meaning: took it seriously) in April 2001, when she was partnered up with Stacey Fong in a supporting singing role. Her most recent performances include the Leland Yee State Assemblyman Fundraiser (Jan 2002) and the SF CCC's Mother's Day Spectacular (May 12, 2002).

"Chinese Opera is very fun. Good way for me to bond with my mother and learn more about my Chinese culture. Also, Chinese opera is to me like art: the costumes, make-up, movements…it's all so interesting."
PROFILE
Name: Rebecca Ng
Nickname: Becky, Beck Beck, Sis, Becka, Mui Mui, Yee Mui (second Mui), Invisible Dragon of the South Sea, Kid, Kitten, Sandy's daughter
Height: "Short people are cool!"
Weight: "Skinny people are cool!"
Age: 18
Opera Facts
Favorite Skit -
Favorite Song - That little blurb I sang at the Chiu Chee Long show...*heavy sarcasm*
Favorite Instrument - Butterfly Harp
Favorite Role - Lok Mun Long
Favorite Move - Double Spear Flowers
Least Favorite Move - Girl's round table
Funniest or Stupidest Practice Blooper - Getting stabbed by Denise :D
Most embarrassing stage moment - Singing, sweeping floor with my "antennae"
Favorite Actor/Actress - Dragon Lee (When in doubt, say Dragon Lee!)
Role Model - My Mom, Kite Ma, and all my Aunties
Quote: "Meow..." (while stroking your arm gently)......and it always gets me what I want, MUAHAHAH!
---
Be sure to catch Becky's next performance: Red Bean's 6th Annual Opera Show
July 27, 2002, 6:45 PM at Great Star Theatre in San Francisco

The show will consist of 6 skits, and three singing performances. For the first time in the Bay Area, the show will feature an all-American-Born-Chinese (ABC) performance: Lau Gum Ding. Becky is the supporting actress for this skit. For more information on Lau Gum Ding, visit Lau Gum Ding's website.

General admission tickets are $50, $30, $20 and $10. For advance ticket reservations, please contact Becky.
Sponsorship/Advertisement to the event program is available as follows:
Full Page - $300 (include 2 Honored Guest $100 Tickets or 4 Special Guest $50 Tickets)
Half Page - $150 (include 2 Special Guest $50 Tickets)
Quarter Page - $100 (include 2 Guest $30 tickets)
If you are interested in sponsoring Becky, please notify her by June 5th, 2002. Any donations to the Red Bean Cantonese Opera Club in support of this cultural event will be highly appreciated. Thank you in advance for your support.
---
Pictures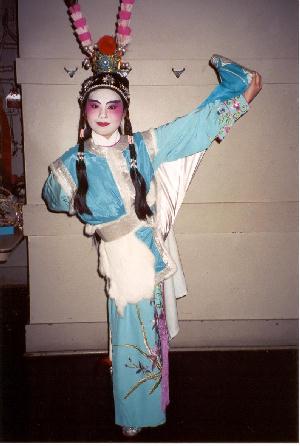 ---
[Home] [About Cantonese Opera] [News & Events] [ABC Corner] [NBC Corner] [CBS Corner]
[Editorials] [Spotlight on...] [About this site]

© 2002-2003 Bay Area Cantonese Opera. All rights reserved.