Jared's Homepage

Look!
It's a RAISIN!
It's a BRUISE!
No...it's CHINESE BARNEY!

Jared has been performing for over 10 years. In second grade, he started Chinese folk dance with the Chinese Folk Dance Association, and Wushu with the San Francisco Wushu Team.

Jared was brought into the opera world when Kwan Hung Opera asked for assistance with "Precious Lotus Lantern (Bo Leen Dung)." From there on, whenever opera clubs needed any help, Jared would come to the rescue without a second thought. In the past, Jared would be a soldier or background character, but recently Jared has been in roles that require a little talking and acting.

Usually people think that as more generations are born in America, the Chinese culture will fade, but Jared refuses to see that happen. As a second generation ABC he has and will continue to promote the Chinese culture and performing arts.

"Many people expect a second generation ABC to know nothing about Chinese culture.. so I'm here to enlighten them."

--July 2003
PROFILE
Name: Jared Young
Nickname: Fay Jai (Fat Boy) [You betcha!], Ngou Ngou ("bull")
Height: 5'10"
Weight: 200 lbs (hence the nickname Fay Jai, hehe)
Age: 19
Opera Facts
Favorite Skit - The Precious Lotus Lantern (Bo Leen Dung)
Favorite Song - nothing in particular
Favorite Melody to sing - haven't sung yet.
Least Favorite Melody to sing -
Favorite Instrument - percussion, seona, er wu
Favorite Role - The assassin in Reunion at West River...or as I like to call it, THE BIG RAISIN...THE BIG BRUISE...HECK CHINESE BARNEY!!!!!!!!!!!!!!!!!!!
Favorite Move - Jumping inside crescent
Least Favorite Move - Anything that would hurt :D
Funniest or Stupidest Practice Blooper - Almost sliding off the table during "chaan toi"
Most embarrassing stage moment - Nothing too embarrassing yet!
Favorite Actor/Actress - MYSELF!
Role Model - MYSELF!
Quote: "OH MY GOD WAH!"
"Ney mo gik say ngo!"
"Ai Yoooooooooooooo."
"FEED ME..."

---
Jared's Past Performances
KTSF Channel 26 Cantonese Evening News on November 12, 2003. Likcon Lam interviewed Stacey Fong and Jared Young about their involvement in Chinese Opera, and their goals for promoting and popularizing Chinese Opera to mainstream audiences.
---
Pictures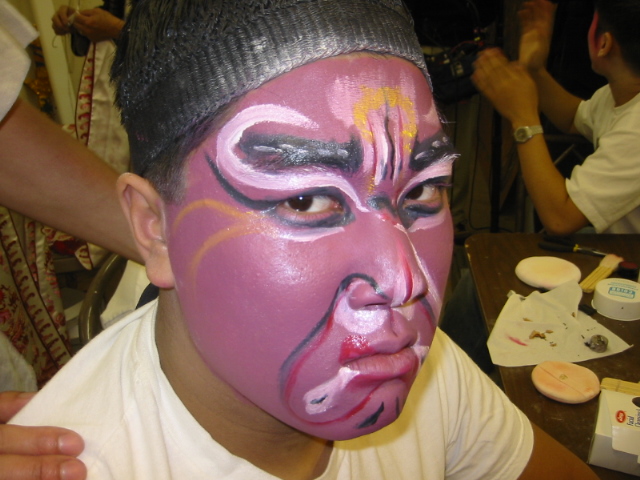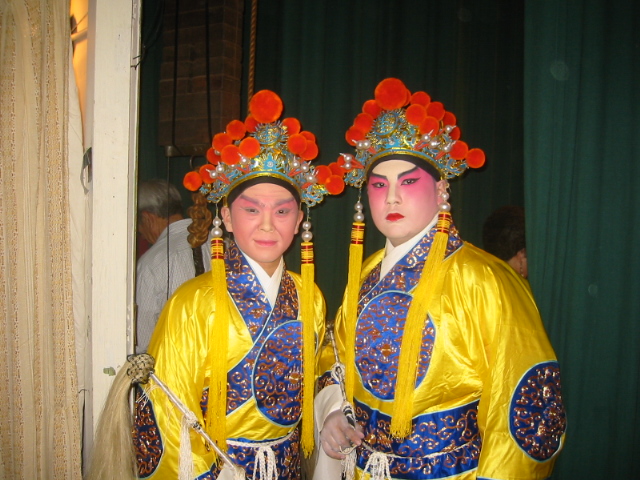 Jared and Erick at Red Bean's The Lioness Roars.
---
[Home] [About Cantonese Opera] [News & Events] [ABC Corner] [NBC Corner] [CBS Corner]
[Editorials] [Spotlight on...] [About this site]

© 2002-2003 Bay Area Cantonese Opera. All rights reserved.